Athens to Atlanta Road Skate に触発されたランナー Sean Blanton さんが、白血病を発症した少年のため募金を集めるキャンペーンとして、A2A 開催の前日10月10日に、もう一つの A2A 89 mile を実行していました。Sean Blanton さんは旅行好きの23才、生粋のアトランタ育ちだそうです。89 mile (142.4km) を19時間41分で完走。
87 mile run from Athens to Atlanta For Carter (Oct. 10th 2009)
by Sean Blanton (Oct. 13, 2009)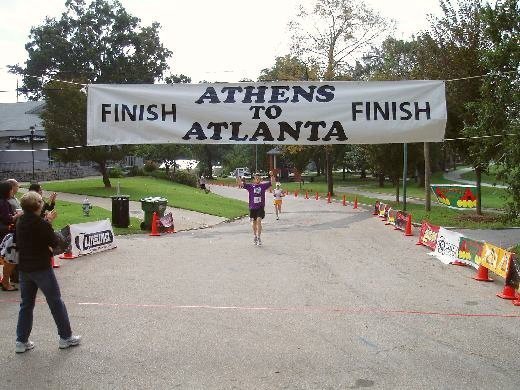 I am happy to say I finished the 89 mile course from Athens to Atlanta in 19 hours 41 minuites and 9 seconds despite being sick the two days prior to the race.
Sean Blanton
:
Athens to Atlanta 89 mile Run RACE REPORT!
Athens to Atlanta Epiphany


I was running some months back, after I had just read Dean Karnazes' Ultra Marathon Man book, and I was thinking how I wanted to run for someone else's life. I am just a part time worker and I dont make a whole lot of money, so what can I do for someone who is sick.

It came to me later when I was looking at endurance events online. I found an inline skating event where they skate from Athens to Atlanta. I then thought to myself that would be awesome to run it. So I decided to email the race directors thinking it can never hurt to ask. Within 24 hours of emailing them I received an email back saying that they thought that it was an amazing idea.

Since then I have taken the idea and run with it, literally. It fuels my runs and gives my every step a reason to take another one. I can't stop Im not running for my life but for someone else's life.
The money I raise goes to the Leukemia and Lymphoma society to help find new cures and help treat others stricken with these diseases!

I am running in Honor of Carter!
Carter's Story


Carter was diagnosed with Acute Lymphotic Leukemia in May of 2008.

His birthday is June 8th. Carter is 7 years old and in the first grade. Carter enjoys Falcons football, basketball and reading. Carter's parents, Eric and Christy and his brothers, Max and Beau, live in Cobb

County Carter and his family look forward to being a part of Team In Training!

Please make a donation to support me and help Carter and the Leukemia and Lymphoma Society.

I hope you will visit my web site often. Be sure to check back frequently to see my progress and join my Facebook group http://www.facebook.com/home.php#/group.php?gid=118085447872.

Thanks for your support!


We need your support! Welcome !
TeamInTraining.org
:
87 mile run from Athens to Atlanta For Carter