AIRSKET Detachable Inline Skates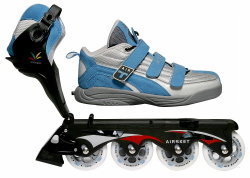 「HYPNO社製品2006年モデル製造中止!」と云われる中、韓国の「くりそつ」スケート「AIRSKET」がピンチヒッターとして登場しました。後発の強み、エアーサスペンション付きフレームで点字ブロック・タイル歩道などのデコボコ路面でも乗り心地は良さそうです。スケートはAction, Spirit, Swing と3タイプ、ブーツは12色のカラーバリエーションも揃っています。

They said that "HYPNO product manufacture stop in 2006!". But Korean AIRSKET puts New Detachable Inline Skates looking like HYPNO Skates on the market.



AIRSKET Action Skates

---

AIRSKET Spirit Skates

---

AIRSKET Swing Skates

AIRSKET Skates: Made in South Korea
Category: Urban Skate
Set up: Quick Connection
Color: 12 diffrent color combination
Boot: Low-top (Action and Swing) High-top ( Spirit)
Frame: 4W 255mm
Wheel: 80mm/90A
Bearing: NMB 608
Size: 200mm - 280mm (5mm)
Other: Velcro band, Air Suspension.




Slide-Step-In System with 3 point Connection
How to Slide-Step-In
Fasten shoelace and straps.
Slide-in toe side hook in order lock the frame.
Step-in heel side stopper.
Fasten your ankle with ankle belt.
How to Slide-Step-Out
Heel side off the stopper.
Slide-out toe side hook of the frame.
The Air Suspension System really works. It makes rolling feel like you are on airbags.